DOPE
Goodie Boxes
You may not open every piece of mail, but what about every package that comes to your house, do you open that?
With DOPE Goodie Boxes you can send three gourmet cookies with a handwritten note in a custom goodie box designed for your business to make you stand out from the crowd! DOPE Goodie Boxes are about creating deeper relationships with your customers getting more reviews, referrals, and creating a better customer experience by differentiating your company from your competition.
HOW Goodie Boxes Elevate Your Business
Custom designed Goodie Boxes create a deeper connection with your customer by making you unforgettable.
They help your business to stand out from the crowd by elevating your customer experience, and t
hey create advocates for your business earning you more business through referrals and reviews.
WHY Goodie Boxes Work
You may not open every piece of mail that gets delivered to your house but you open every package. When's the last time you got a thank you package from a company? Never? That's what we thought. DOPE Goodie Boxes puts your business above the rest with a superior customer service experience!
WHAT Can Trigger Sending a Goodie Box?
Connect your CRM and use DOPE Automations to automatically send Goodie Boxes to clients who spend a certain amount, or when a job closes, or based off of any data point in your CRM that you want!
The DOPE Part?
This all happens
AUTOMATICALLY

with

NO MINIMUM ORDER!

Connect your CRM to DOPE and automatically send Goodie Boxes without having to lift a finger.
Custom branded box
A custom designed box with your logo and your brand colors.
Gourmet cookies
Three gourmet cookies sent to your customers doorstep within 4-10 days in the US.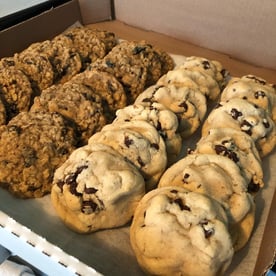 Handwritten Card
A handwritten thank you card thanking your customers for their business!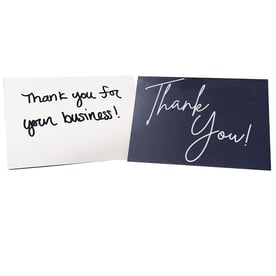 Cookie Monster
Connect your CRM to DOPE and using DOPE Automations, set up a Goodie Box automation to send a custom designed Goodie Box with three gourmet cookies and a thank you card inside, base on clients who spend over a certain amount, when a job status updates to close, or whatever data point in your CRM you'd like!
Additionally Cookie Monster sends a customizable Handwritten Note separately allowing you to ask for a review, a referral, or whatever call to action or message you'd like!
Goodie Box Frequently Asked
Questions (FAQ)
We're available to help answer any questions you may have about your Goodie Box campaign, but here are the most common.
Need help?
Call us today! (651) 309-8577