Send automated direct mail straight from your CRM.
Automatically trigger thank you and marketing postcards send directly to your customer with no minimum order.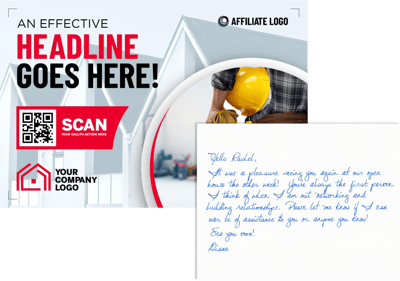 When you connect HubSpot to DOPE, magic happens.
You'll never have to remember to send another thank you card or spend hours doing your own direct mail.
Send postcards to multiple households.
Automated campaigns allow you to send marketing mail to the neighbors of your clients. Our software takes in your client's address, finds the closest 10, 25, 50, or 100+ neighbors, and sends them your custom mailer.
Send a postcard, handwritten card, or cookie to one household.
Automated follow-ups allow you to send a single piece of mail to a single address. These are fantastic for thank you cards, service reminders, and re-engagement campaigns.
Not just postcards, handwritten cards and cookies too!
Automatically send postcards, handwritten cards, and cookies to anyone in your CRM.
Simply by updating a status in your CRM, send postcards to your customers, their neighbors, or both!
Perfect to let the neighbors know who's doing what around town.
Add a personal touch with customizable, handwritten cards.
Take the effort out of having to sit down and write hundreds of cards. Let our robots do it for you.
Delicious Dirty Dough Cookies are the perfect gift for any occasion.
These babies are the perfect closer. Show your customers you value them, and they'll value you.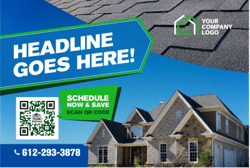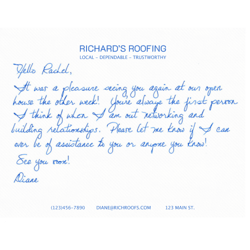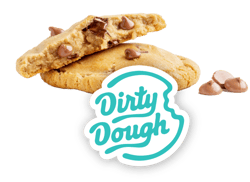 Built to bolt-on to any CRM.
Our software knows when you change a status inside of your CRM, enabling us to send postcards, handwritten cards, and cookies with no extra effort.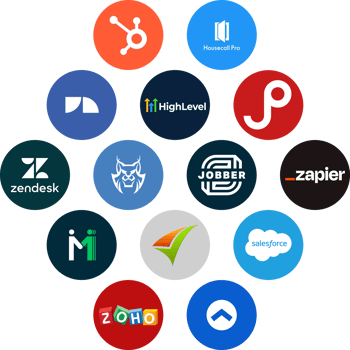 How many pieces of mail should you send? There's no magic number, but an 4x4 campaign has proven to be a very effective starting point. It's pretty simple: Send a group of potential customers 1 card a week for 4 weeks. At the end, you'll be their go-to!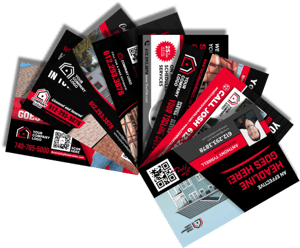 Frequently Asked Questions
We're available to help answer any questions you may have, but here are the most common.
Will you help me with my designs?
Absolutely. We have a full-staff of designers who can take your brand assets and marketing goals and apply them to a variety of proven templates we've developed for strong direct mail results.
Will you be able to change data in my CRM?
No. We use a connection that reads your data but cannot write new data (unless specifically requested by you in a unique circumstance).
What is an Automation?
An automation allows you to send direct mail with no minimum order based on any function in your business that is recorded by your CRM, and even some that aren't.
Give us your info and we'll get back to you with a solution to fit your business's needs.